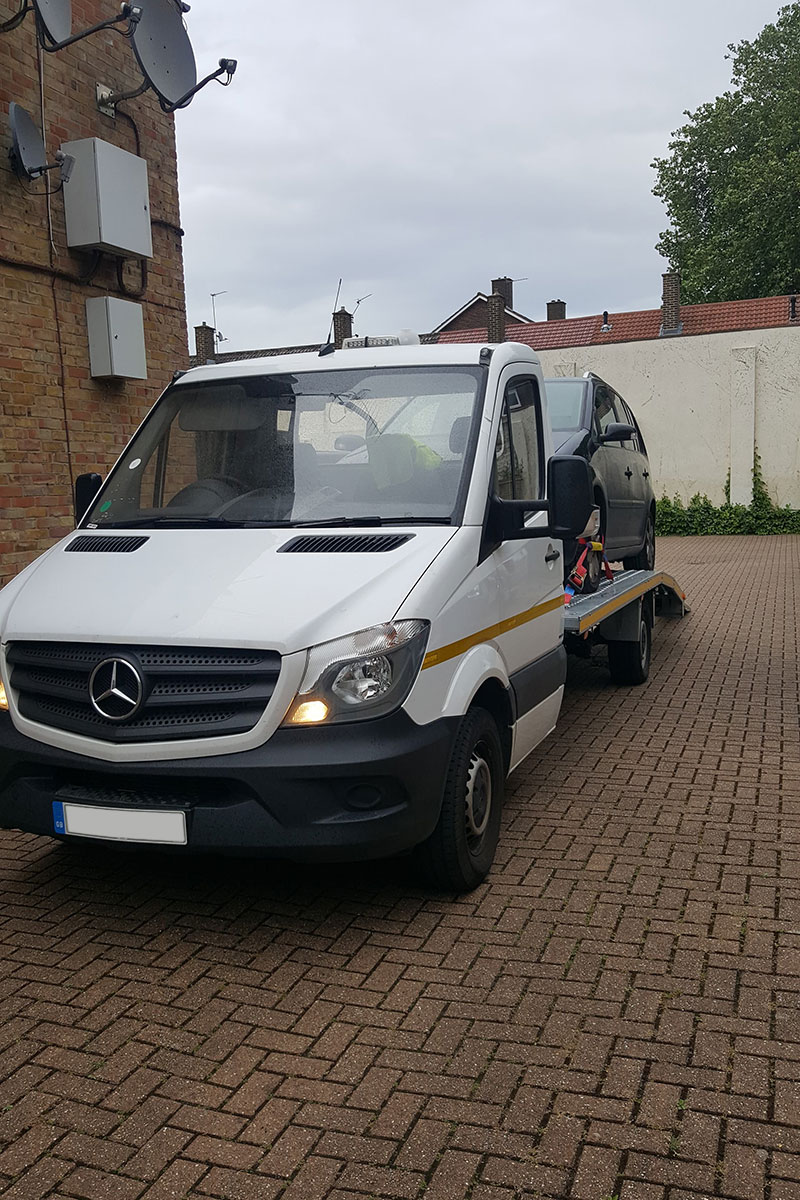 Car recovery service in Harrow is needed whenever there is a car on the side of the road seeking the professional help of mobile mechanics. They can get anything fixed in no time, as long as you give Best Car Recovery Harrow a call and book a quick car recovery service session when you need it. Our company is here for you!
Harrow is one of the areas our teams of mobile mechanics cover on a daily basis since so many people need our road assistance as quickly as possible. Whether they are town locals or people simply on their way somewhere else, the most comprehensive breakdown recovery service in the Harrow region is available only here. Your car will be taken care of in the safest way possible.
The recovery truck we have up for grabs is also a special feature enhancing your day-to-day life. It can safely transport your vehicle from one point in Harrow to another. It is all being done in the safest manner so that your car makes it to the final destination without a scratch. You can book your car transport by giving us a call.
What is also important for our car recovery service in Harrow is that you can benefit from our quick and easy jump starter service. Let's say that you have to be somewhere in an hour, but your car refuses to start – jump starter in Harrow is easy to find. Only Best Car Recovery Harrow is capable of offerings you the best jump starter service in Harrow in less than 30 minutes, so you can be right where you have to be on time.
Cheap breakdown recovery is our priority number one simply because this is what makes people come back for more of our services – dial 07947775239 and you will see the results for yourself.
Cheap Car Recovery in Harrow
Offering you the most affordable and proficient car recovery service in Harrow is a privilege for us, as we have years of experience to our name. Best Car Recovery wants you to enjoy your vehicle as soon as possible and we make this possible through the extensive breakdown recovery service portfolio we have in store. The affordable offering we have for you won't break the bank and you don't have to worry about any additional costs – what you see is what you get with us. This way you will recommend our car recovery service to your friends or acquaintances in need.
Car Recovery Near Harrow
Best Car Recovery can quickly locate you and send a team of seasoned mobile mechanics to get your vehicle fixed – that's the thing we are best at. We want you to live a happy life that's not hindered by any obstacles. Now you have the chance to experience it all with the help of one of our all-encompassing car recovery services.
Our company is ready to give you the most advanced breakdown recovery service in Harrow. Best Car Recovery Harrow knows just how important being on time is and we make sure that the teas of experienced car mechanics are there for you in less than half an hour whenever you need them. What makes us so special is the fact that we bring you the best car recovery service 24 hours per day, seven days per week. You read that right, we work around the clock for our happy customers seeking road assistance in Harrow and the region.
Why Choose Our Harrow Car Recovery Service?
The thing that makes us stand out in the crowd is our devotion to the service making sure your car is ready for the road and exploring it freely. We at Best Car Recovery have put years into becoming the best version of ourselves, with cutting-edge technology, the most advanced tools for fixing your car, as well as experience and skills making our mobile mechanics the best in Harrow's car recovery field.
You won't be disappointed once we reach you and get your vehicle fixed and back on the road. The team will be prepared in advance for your particular case – once you dial 07947775239 our staff members will collect all the information needed and prepare them with the appropriate tools. Choose Best Car Recovery and you won't regret the results achieved during the breakdown recovery service session.
Frequently Asked Questions
Do you work in the Harrow area?
Harrow is one of the areas we are proud to cover, making locals' lives easier with the reliable car recovery service, along with the jump starter one, the tow truck transportation, and so many more. Just give us a call and book your session whenever you need it – we work both with scheduled appointments and emergency ones.
How do I book a team of mechanics?
That is probably the easiest thing you can do. We have worked hard to optimize and streamline the process, so there are no misunderstandings. You have to dial our number and explain your situation to our friendly staff members answering the phone. They will offer you the most appropriate road assistance service for your case and send a team right away.
Is the recovery truck available around the clock?
Best Car Recovery Harrow offers a recovery truck available 24/7 because unexpected situations can occur at all times. It could safely transport your car to another location even if it's in the middle of the night.